OUR BOARD MEMBER & ORGANIZATIONAL COMMITTEE
2nd International Conference of Dramatherapy & Playtherapy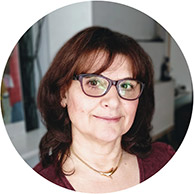 Dramatherapist – Psychotherapist
Born in Greece, raised and educated in the United States of America.
Certified member of the European Association of Psychotherapists (EAP) and member of the Board of Directors of the Panhellenic Professional Association of Dramatherapists and Playtherapists.
Graduate of Dramatherapy from "ATHIRMA" Hellenic Institute of Dramatherapy and Playtherapy, and Sociology/Literature from Virginia Commonwealth University, Richmond, Virginia, USA and the American College of Greece.
She has worked with individuals with down syndrome and intellectual disabilities ("ESEEPA" Special Vocational Training Center) and also individuals suffering with mental disorders (St. George's Psychiatric Clinic). Furthermore, she has facilitated workshops abroad, within the framework of an EU program using art as a means of connecting and communicating.
Today, she conducts individual & group sessions, and develops-facilitates theoretical seminars and experiential workshops. She is a trainer and supervisor to Dramatherapy practitioners as well as facilitator of "The Foundation Course in Dramatherapy & Playtherapy" at "HERMA" Institute of Dramatherapy and Playtherapy.